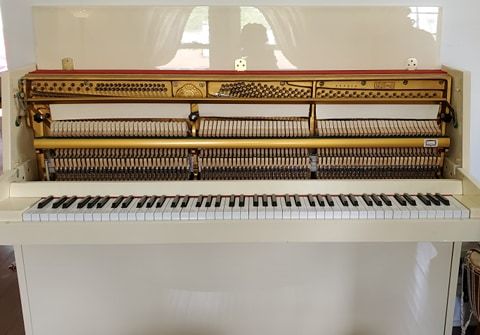 I have been waiting for this day for so long! I finally had my piano tuned today and it sounds so sweet...so refreshing. I have a great keyboard but nothing compares to the warm, rich, big sound of my piano. I can finally make some videos using the piano instead of the keyboard and I am stoked. This past weekend was such a breath of fresh air...literally. I spent much of my time outside with family, friends and I so enjoy being in nature (my happy place). I was in need of some weather in the 70's! My husband, daughter and I spent some time at my in laws (outside of course)...their property is gorgeous and Gracie had a ball exploring and being creative with sticks, leaves, rocks, etc. I did not play any music this weekend but the time spent outdoors was what my soul was craving. And I had a lot of fun with my Grace which was so needed. Homeschooling has been challenging so just being together with nothing to HAVE TO DO was awesome. I am getting back to work this week on cover songs and some newer original music. I keep getting messages from folks asking me about new songs I made video's for recently and I am answering questions here in my blog until my podcast is ready to go. 
Question # 1: (from Jessica)
"I can't stop listening to Swim Through Me. I am really relating to it and was wondering what you were thinking about when you wrote it."
Hi Jessica! Thank you for your message. And thank you so much for your support. I am glad you like the song Swim Through Me. This song is kind of personal but I will tell you it is about aspects of my relationship with my husband, how I have approached motherhood and putting myself on the back burner while I juggled family life. I actually wrote the song with Steven and it's my new favorite! Glad you're enjoying it too : )
Question #2 (from Jordan)
"Are you going to record Rise with your trio? It's such a sexy song. Did you write it about your bass player, haha?"
Hi there Jordan! I am cracking up...we have played it a few times and have a super rough recording of us jamming on it from last year. No, I did not write it about my bass player. The song is not written about me. It was inspired by a friend of mine who had an on and off relationship with someone. My life is amazing, don't get me wrong, BUT I have to draw on other's for inspiration because I get bored writing about myself or things that are going on in my life! I do hope to record it with the band in the near future. I'll make sure to let you know when I write a tune about my sexy bass player ; ) 
Question #3 (from Lori)
"I am in love with your version of is this love. I've never heard it sung like that. How did you come up with it?"
Thank you Lori! I am so happy you liked my cover! Oh my goodness, my voice is definitely most at home in the way I sing this tune. I was a jazz vocal/guitar major in college and I used to sing jazz professionally so soul & jazz just fit for me. I have always loved the song and I drew on inspiration from my husband and our love story. I think thinking about him when I was singing it helped me get in the spirit of the lyrics, ya know? I don't sing love songs often but when I do, my best friend is front and center in my mind and that is where the emotion comes from. 
Well, there you have it! Keep the questions coming and I'll keep the music coming! Stay safe, healthy, connected and I'll see ya on the other side...hopefully at a theater or small intimate show...there is light at the end of the tunnel...let it shine!